MPC Director Discusses Dangers of Synthetic Marijuana in Local Radio Interview
Dr. Bruce Anderson speaks with WYPR 88.1 about synthetic marijuana and the threat it poses to public health.
By: Malissa Carroll
Tuesday, March 26, 2013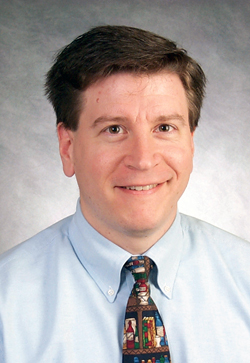 On March 18, Bruce Anderson, PharmD, DABAT, director of operations for the Maryland Poison Center (MPC) and associate professor in the Department of Pharmacy Practice and Science at the University of Maryland School of Pharmacy, appeared on "Maryland Morning," a local radio program hosted by Sheila Kast on WYPR 88.1, to help raise awareness about the dangers associated with synthetic marijuana use.
Synthetic marijuana is a mixture of herbs sprayed with a chemical similar to tetrahydrocannabinol (THC), the active ingredient in natural marijuana. These substances were created approximately 20 years ago by laboratory scientists who wanted to investigate the role of cannabinoid receptors, those receptors found throughout the body that bind to chemicals like THC, in animals. According to data collected by the MPC, these substances are now most often used by individuals aged 13-19 years old and 20-29 years old.
"Unlike commercially available drugs, these substances are not associated with any clinical studies where known doses are given to certain populations of people. This is an experiment that's happening in real life," says Anderson. "There are different chemical entities that are being produced and sold in an attempt to get around the law, so no good information is available about what it is that people who use these substances are being exposed."
Also interviewed during the program was Bethany Rodgers, a reporter from the Frederick News-Post. Rodgers discussed how state lawmakers are currently considering several bills that would ban the use of the synthetic marijuana. Those bills include:
House Bill 1: Sponsored by Delegate Kevin Kelly from Allegany County, this bill would make the federal list of banned substances often found in synthetic marijuana illegal in Maryland, too.
House Bill 262: Sponsored by Delegate Jeannie Haddaway-Riccio from Maryland's Eastern Shore, this bill would give local law enforcement power to prosecute against copycat versions of those banned substances.
However, because the producers of these substances can alter the substances' chemical structures to circumvent laws such as these, passing such legislation may prove difficult.
"The individuals who produce these substances have some background in chemistry, and they use that knowledge to change the chemical structure of these substances," says Anderson.
To learn more about synthetic marijuana and what state lawmakers are doing to help protect the public from these dangerous substances, listen to the full interview on WYPR's website.