The Maryland Poison Center (MPC) is well known for being an emergency telephone service that helps those who have been poisoned. But did you know the MPC also educates thousands of people each year about preventing poisonings?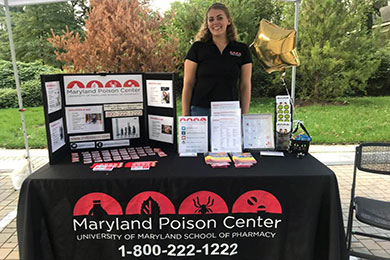 Our public education efforts are intended to:
raise awareness about our services
increase awareness about the poisons found in every home, business, and school
prevent poisonings from occurring
We provide educational materials, including brochures, stickers, and magnets to Marylanders for their homes, as well as to large groups to share with others.
To help increase awareness about our services and the importance of poison safety, we also partner with:
state and local government organizations
community organizations
schools and child care agencies
police and fire departments
health care provider's offices
pharmacies
hospitals
Public Education Programs and Health Fairs
The MPC offers poison prevention education and outreach through workshops, lectures, health fairs, and staff trainings. Invite the MPC to attend your event or provide a poison education program.
Teaching Children
The MPC offers resources to help present poison safety lessons to pre-school, elementary school, and middle school students.
Activity Sheets
When teaching children, it is important to reinforce the message. In this section, you will find activity sheets that make learning about poison safety fun.
Videos
Educational videos are an important tool to help reach out to the community. In this section, you will find poison safety videos for children and adults.
Poison Prevention Press
Every other month, the MPC publishes an e-newsletter for the public. Explore this section for information about how you can subscribe to the newsletter, as well as read current and past issues.
Educational Materials
The MPC has educational brochures, stickers, magnets, and posters available to order. Visit our online store and access our downloadable information sheets in this section.
Educational Webinars
The MPC has free educational webinars available for on-demand viewing.