Poison Prevention Press is a newsletter designed to educate the public about poisons and how to prevent poisonings and overdoses in the home, school, and workplace.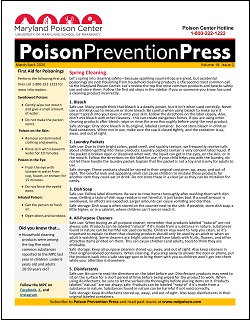 This e-newsletter is published every other month by the Maryland Poison Center. It presents a wide variety of poison-related topics that cover all ages.
Visitors are encouraged to subscribe to this newsletter. Once you have subscribed, you will receive an e-mail each time a new issue has been posted. The e-mail will contain a description of the current topic along with a link to the current issue. Please share the newsletter with others by forwarding the link and printing and posting the issues that you find interesting.
Links to view issues from the past two years are available below for our readers' convenience. To view older issues, please visit our archive.
If you require an accessible version of the content provided on this website, please contact Emily Paterson, MPH, CHES®, public education and communications manager for the Maryland Poison Center.
2023
Measuring Medicine Safely
September/October 2023
The Facts About Water Beads
July/August 2023
Skin Lightening Products
May/June 2023
Heart Medicines
March/April 2023
Babysitting Poison Safety
January/February 2023
2022
Poison Safety Tips While Traveling
November/December 2022
Jimsonweed
September/October 2022
Poison Hemlock
July/August 2022
Herbicides
May/June 2022
The Truth Behind Poison Myths
March/April 2022
Maryland Poison Center's 50 Years of Expert Care
January/February 2022
2021
The 100th eAntidote Post
November/December 2021
What Tweens and Teens Should Know About the Poison Center
September/October 2021
What You Should Know About Delta-8-THC
July/August 2021
A Day in the Life of a Poison Center
May/June 2021
Mr. Yuk's 50th Birthday
March/April 2021
Carbon Monoxide
January/February 2021