Maryland Poison Center Launches New Website
New design and improved functionality enhances visitors' experience and assists the MPC in its mission to decrease the cost and complexity of poisoning and overdose care.
By: Malissa Carroll
Monday, March 18, 2013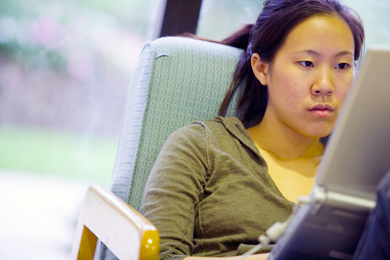 In conjunction with the start of National Poison Prevention Week, the Maryland Poison Center (MPC), a part of the Department of Pharmacy Practice and Science at the University of Maryland School of Pharmacy, is excited to announce the launch of its new website. The redesign process, which began several months ago, was led by staff at the MPC in partnership with idfive, an integrated advertising and design agency in Baltimore.
"We're extremely excited about the launch of the new Maryland Poison Center website," says Bruce Anderson, PharmD, DABAT, director of operations for the MPC. "The new design will allow us to continue our work educating Marylanders about the potentially poisonous substances in their homes and workplaces, and let them know that there is immediate help available 24 hours a day."
The new site's design offers a superior platform to highlight the important education and community outreach work being done by the MPC.
On the home page, a feature box designed to rotate through three large photos and captions calls visitors' attention to prominent news items. Large "call out" buttons have been added to help visitors quickly access the information most important to them, such as first aid for poisoning, what to expect when you call, and educational materials.
The improved design and content organization also helps visitors better navigate the site to find the information they need. Audience-specific tabs have been added to the main navigation menu to help visitors locate the area of the website with content most appropriate to their interests. In the event of a local or national poisoning emergency, an "alerts" feature has been added to the website to quickly notify visitors about the situation.
However, the improvements do not end there. Visitors can now easily subscribe to newsletters, make a donation, and access news and reports from the home page. The new website also boasts a number of interactive features, inviting callers to share their stories and providing activity sheets, games, and videos to help educate children about poison safety and prevention.
"Our goal with this new design was to have more information available in a user-friendly format," says Angel Bivens, RPh, MBA, CSPI, public education coordinator for the MPC. "It is our hope that users will be able to quickly and easily find the information they need about our services, available resources, and poison safety."
Lisa Booze, PharmD, CSPI, professional education coordinator and clinical coordinator for the MPC, continues, "The new website will also continue to have important information for health professionals that will be much easier to find. For the first time, health professionals will be able to easily search our ToxTidbits newsletters and ToxTidbits: Antidote Facts information sheets for topics that they are interested in learning more about."
If you would like to provide feedback about the new website, please e-mail mpcadmin@rx.umaryland.edu.