EMS Providers Receive Lifesaving Training from the Maryland Poison Center
Local conference features presentations about pre-hospital and in-hospital treatments for poisoning and overdose cases from MPC experts.
By: Malissa Carroll
Monday, April 15, 2013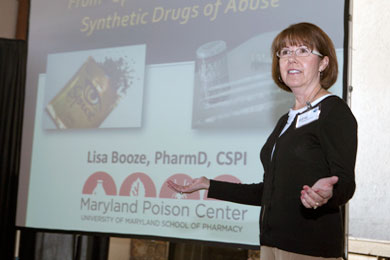 Bruce Anderson, PharmD, DABAT, director of operations for the Maryland Poison Center (MPC), and Lisa Booze, PharmD, CSPI, professional education and clinical coordinator for the MPC, visited Western Maryland to present at the Miltenberger Emergency Services Seminar on April 5-6. This seminar addressed the continuing education needs of basic and advanced life support providers in Western Maryland and surrounding areas and offered a wide range of tracks from which participants could choose to participate, including emergency medical services (EMS), nursing, fire, and dispatch.
Anderson hosted a breakout session for EMS providers on April 6 that addressed envemonations and natural toxins about which providers should be aware, including snake and spider bites, jellyfish and other stinging fish, and caterpillars. He titled his presentation "Bites, Stings, and Other Venomous Things."
"Natural toxins, such as snake or spider bites, present a unique therapeutic challenge to EMS providers," says Anderson. "Because these cases are somewhat uncommon, individual providers do not treat many of these patients. The goal of this presentation was to help EMS providers understand that these poisonings can occur and, if they encounter these cases, to be able to apply the best treatment before the patient reaches the hospital."
Anderson identified the species in Maryland that can bite or sting, and discussed whether those exposures could be potentially life threatening. He also shared facts and recommendations for the initial assessment and treatment of these complex patient cases.
In another breakout session earlier that day, Booze addressed synthetic drugs of abuse, including synthetic marijuana and bath salts. These drugs, which are designed to circumvent existing laws, mimic the effects of illegal drugs such as cocaine, ecstasy, and marijuana. The dangerous health effects associated with their use has made them a serious and growing public health and safety issue.
"This presentation familiarized EMS providers with the new synthetic drugs of abuse. These drugs are constantly changing as the manufacturers try to avoid legal prosecution, and it's important that providers know what to look for when they interact with patients," says Booze. "The Maryland Poison Center is a valuable resource for EMS providers, and I wanted participants to understand that they can contact us any time for information about these substances and treatment recommendations."
Approximately 200 EMS providers from Maryland and neighboring states attended the Miltenberger Emergency Services Seminar. It was sponsored by the Maryland Institute for Emergency Medical Services Systems, the Maryland Fire and Rescue Institute, the Region I Emergency Services Education Council, Garrett College, and Allegany College of Maryland.