MPC Research and Education Coordinator Speaks at Joint American-Israel Medical Toxicology Conference
Presentation highlights pediatric and adult non-medical use of buprenorphine.
By: Malissa Carroll
Wednesday, May 22, 2013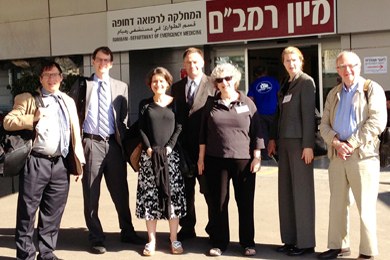 The American College of Medical Toxicology, in conjunction with the Israel Society of Toxicology, hosted its second Joint American-Israel Medical Toxicology Conference at the Rambam Health Care Campus in Haifa, Israel from April 23-25, 2013. In attendance was Wendy Klein-Schwartz, PharmD, MPH, coordinator of research and education for the Maryland Poison Center, who delivered a presentation highlighting both unintentional pediatric exposures and adult non-medical use of buprenorphine, a drug commonly prescribed to treat individuals with opioid dependence.
"Although buprenorphine can be used for the management of pain, it is often prescribed as an alternative to methadone for individuals with addiction disorders," says Klein-Schwartz. "Typically, patients who receive methadone to treat their addictions have to visit a clinic every day to receive their medication, which can significantly affect their quality of life. The advantage of being treated with buprenorphine is that it can be prescribed out of a doctor's office."
In addition to providing general information about buprenorphine and its uses, Klein-Schwartz discussed the problems that arise when buprenorphine is made easily accessible in patients' homes. "Unfortunately, because buprenorphine is now accessible in the home, it's available for children to unintentionally consume and for other adults to abuse or use in a non-medical way," she says.
The Maryland Poison Center has conducted numerous studies on buprenorphine, including a 2008 study that highlighted pediatric exposures to buprenorphine reported to the RADARS® System by poison centers nationwide, and a 2013 study of national poison control centers' data that examined the non-medical use of buprenorphine and methadone among adults aged 18 and older. Both studies were spotlighted in Klein-Schwartz's presentation.
On the last day of the conference, Klein-Schwartz visited a local hospital with other faculty who attended the conference. The Emergency Division of the Israeli Ministry of Health had arranged for a toxicological multi-casualty drill at the hospital and conference participants were invited to observe the practice.
"We followed one of the gurneys into an area that is typically used as a daycare center," recalls Klein-Schwartz. "Because this hospital had a lot of 'multi-use' rooms, this daycare center had hook-ups for medical supplies, such as oxygen, already available on the walls. However, when the area is used as a daycare center, patients and visitors would not notice these hook-ups. I found that very interesting."