MPC's Bivens Discusses Hidden Household Dangers on Local News Program
Interview emphasizes the importance of securely storing household products out of the sight and reach of young children.
By: Malissa Carroll
Friday, May 10, 2013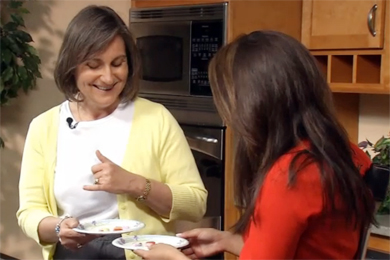 Angel Bivens, RPh, MBA, CSPI, public education coordinator for the Maryland Poison Center in the Department of Pharmacy Practice and Science at the University of Maryland School of Pharmacy, appeared on Fox 45 News on May 7, to help educate viewers about the dangers posed to young children by common household items when those items are not properly stored in the home.
Products such as medications, cleaners, and personal care products can become poisons when used in the wrong way, by the wrong person, or in the wrong amount. According to Safe Kids Worldwide, a global network of organizations dedicated to providing resources to protect children from unintentional injuries, more than 165 children visit emergency rooms every day after getting into medication.‌
During the program, Bivens compared several medications, including an adult vitamin and Tylenol, to candies commonly consumed by children, such as Hot Tamales® and Good & Plenty®. She discussed the similarities in shape, size, and color between the items, underscoring the ease with which these items can be confused by small children. "Children don't get into adults' medications to make their parents mad; they don't do it on purpose. They think they are eating candy," said Bivens.
Approximately 50 percent of calls into poison centers, including the Maryland Poison Center, involve children under the age of six. Bivens recommends that parents place items such as medicines, cleaners, shampoos, soaps, and others that could cause harm if ingested, out of the sight and reach of young children. "You don't want that one bad outcome to be your child," she notes.
To watch the full interview, please visit Fox 45 News' website. For information about how to prevent poisonings in the home, please visit the Maryland Poison Center's website.