MPC Directors Meet with Federal Legislators to Highlight Importance of Poison Center Network
Drs. Anderson and Doyon visit Capitol Hill to advocate against further cuts to federal funding for poison centers.
By: Malissa Carroll
Friday, March 1, 2013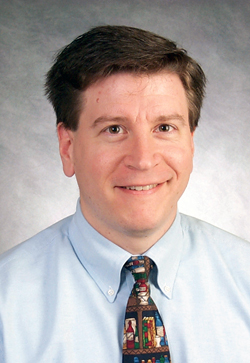 On Feb. 26, Bruce Anderson, PharmD, DABAT, director of operations for the Maryland Poison Center (MPC) and Suzanne Doyon, MD, ACMT, medical director for the MPC, joined approximately 80 leaders from other poison centers across the United States on a visit to Capitol Hill to highlight the importance of the nation's poison center network and encourage lawmakers to support federal funding for the program. The visit to Capitol Hill was part of the two-day Mid-Year Managers Meeting of the American Association of Poison Control Centers (AAPCC), which supports the nation's 57 poison centers in their efforts to treat and prevent drug, consumer, product, animal, environmental, and food poisoning.
"This event was a first for our organization. It was very well-attended with leaders from poison centers across the country descending upon Capitol Hill at the same time," says Anderson. "The representatives we met with were receptive to our efforts, but also aware of the current challenges that Congress faces, particularly with the national budget."
Anderson and Doyon met with representatives from the offices of several Maryland legislators, including Chris Van Hollen, John Sarbanes, Dutch Ruppersberger, Andy Harris, and Ben Cardin. During these meetings, Anderson and Doyon highlighted the importance of poison centers and the need for continued federal funding for these centers. In particular, they spoke about the financial impact of poisoning and overdose cases on Maryland's health care system and the MPC's role in helping to improve patient care and decrease health care costs for Maryland residents.
"Several studies have documented the beneficial impact poison centers have on overall health care costs," says Anderson. "Poison centers save money by keeping people out of the emergency department who do not need to be there. For patients who need to be admitted to the emergency department, specialists from the poison center work with the health care professionals responsible for their treatment to provide information and recommendations that help them recover faster."
According to a recent report released by the AAPCC, poison centers save Americans more than $1.8 billion every year in medical costs and lost productivity. Experts at the MPC handle more than 62,000 calls each year involving household cleaners, medicines, snake and spider bites, industrial accidents, and chemicals. These calls are faster and a lot less expensive than a visit to the emergency room, with about 70 percent of all cases reported safely managed at home.
Since 2011, federal funding to the nation's poison centers has decreased by 36 percent, with the federal government currently providing $18.8 million in total annual funding for the poison center program. Further federal funding cuts threaten to jeopardize the effectiveness of the national program and will make it difficult for some poison centers to continue providing the lifesaving services upon which the American public and health care providers rely.
"Most individuals support the work being done by poison centers and understand the benefits these centers offer in improving overall public health," says Anderson. "From a legislator's perspective, it's about obtaining support to continue this funding. In past years, this would be an easy cause to garner support for, but current issues facing Congress make gaining this support challenging at this time."